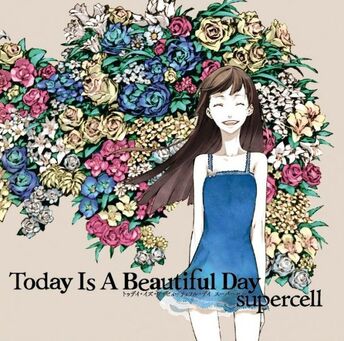 "Today is a Beautiful Day" is an album by Supercell, with
Nagi Yanagi
as its guest singer, released March 16, 2011. It contains popular songs that she sung during her time as a guest singer, such as
Utakata Hanabi
and
Kimi no Shiranai Monogatari
. It is the second album that includes Nagi.
Track List
Edit
Owari e Mukau Hajimari no Uta (終わりへ向かう始まりの歌)

 Kimi no Shiranai Monogatari (君の知らない物語)

Hero (ヒーロー)

 Perfect Day

 Fukushuu (復讐)

 Rock'n'Roll Nandesu no (ロックンロールなんですの)

 LOVE & ROLL

 Feel so good

 Hoshi ga Matataku Konna Yoru ni (星が瞬くこんな夜に)

Utakata Hanabi (うたかた花火)

 Yoru ga Akeru yo (夜が明けるよ)

Sayonara Memories (さよならメモリーズ)

Watashi e (私へ)
Ad blocker interference detected!
Wikia is a free-to-use site that makes money from advertising. We have a modified experience for viewers using ad blockers

Wikia is not accessible if you've made further modifications. Remove the custom ad blocker rule(s) and the page will load as expected.