Cencoroll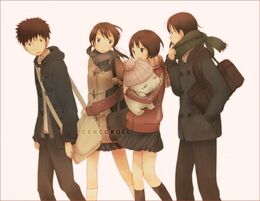 (
センコロール Senkorōru
) is a 2009 anime movie, nearly singlehandedly written, designed, directed, and animated by manga author Atsuya Uki.
In the story, large, mostly white amorphous creatures have been appearing in a town modeled after Sapporo, Hokkaidō, Japan. The main protagonist, Tetsu (テツ), is a male high school student who keeps one such shapeshifting creature named Cenco (センコ Senko), which he can control telepathically, but this all a secret for himself.[http://en.wikipedia.org/wiki/Help:Installing_Japanese_character_sets ]
Ad blocker interference detected!
Wikia is a free-to-use site that makes money from advertising. We have a modified experience for viewers using ad blockers

Wikia is not accessible if you've made further modifications. Remove the custom ad blocker rule(s) and the page will load as expected.